There is nothing we love more than taking a break from our busy schedule and getting a massage. In most western countries massage and other kinds of pampering sessions can be expensive. A treat for a birthday or special occasion perhaps but certainly not a weekly event. But in Thailand they are very affordable, so we like to spoil ourselves as often as we can!
There are heaps of places offering treatments in Phuket and prices in the smaller venues are around the same, give or take a few baht. Take a walk from your hotel and you're sure to see girls in colourful fisherman trousers, sat outside parlours waiting to entice passing customers in.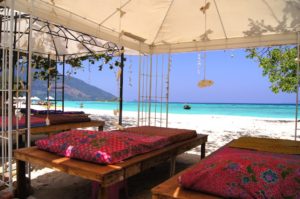 After a long day running around on the boat showing our customers the Phuket attractions, or a days shopping around Central Festival, a foot massage is in order. The parlours have reclining chairs to sit back in and relax whilst having your feet massaged – just check out the blissful look on peoples faces. Then there are single beds with curtains around them for privacy, this is where the body massages take place.
We like to have a massage on the beach sometimes. It's a simple luxury to stretch out in the shade on mats and pillows and be revived by one of the local thai ladies.
Foot Massage
Foot massage is otherwise known as reflexology and originally practised by the Chinese. Each part of the sole of the foot is said to stimulate a different part of the body. Manipulating that area will help that organ and reduce stress, aswell as improving energy levels and releasing tension.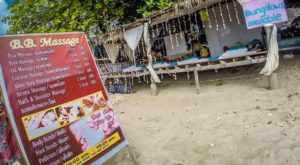 Thai Traditional Massage
A Thai traditional massage can be a bit of a workout but it has heaps of benefits. Lowered stress levels, tension relief and stiffness in muscles and joints, and better energy levels and blood circulation are just a few. You strip down to your underwear and cover up with a sarong, or fisherman trousers, for the massage.
Fish Spa
A fish spa is something quite new to Phuket but seems to have taken off with tourists. You sit with your feet in the fish tank whilst the fish inside nibble away at the dead skin. The species is Garra Rufa and they seem to do an excellent job of cleaning your toes and soles.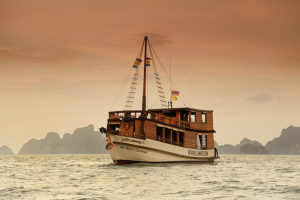 On a private charter on MV Phuket Champagne you can bring masseurs along, have space, comfort and shade. Perfect for the most relaxing day. Sit back on our colourful cushions up on deck and take in the stunning scenes of the island tours Phuket.