There are stray dogs and feral cats all over Thailand, and Phuket is no different. They roam the streets and sleep in the bush where they won't be bothered. Some join a pack, whilst others prefer to go solo.
In Thailand, dogs with no owner are called soi dogs, which means 'street dog'. In Phuket, we have stray dogs on the streets, at the beach and on the mountains. Many of them have staked out their territory and don't wander too far from it. If you enjoy Phuket hiking, you'll meet many of these dogs.
At Nai Harn Beach for instance, you'll see the same dogs every day, that's where they live and know they are safe. They are either fed by the locals or depend on food donated by well-meaning people.
Mostly these dogs are very friendly, and will even shy away from you if they feel threatened. However, you should always be wary of dogs no matter how friendly they seem, as you never know what has happened to them in the past.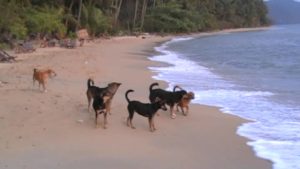 Food Donations
Phuket has lots of good-hearted people who make food drops at places where the dogs hang out. The dogs get to know the individuals who do this and make sure they get their fair share of the food donated. If an animal is in distress these volunteers will call one of the charities to come and pick it up.
Visitors often ask us why there are so many stray dogs? There are all kinds of reasons. Some of the dogs were born and grew up on the streets, and then have gone on to have more puppies of their own.
Others have been abandoned, either because their owners are going back home and don't want to take the dog, or because they're not as cute as when they were puppies. Or perhaps they've become too expensive to take care of. Some dogs are simply lost or uncared for, and so have wandered away looking for comfort elsewhere.
This is Asia – it's not the same as some European countries where pet owners must register their dogs. Many owners fail to spay and neuter their pets resulting in unwelcome puppies or kittens. These are often dumped at temples or in remote areas where they can be hurt, catch a disease, starve or die from neglect.
Animal Charities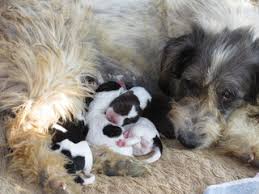 There are some great animal charities on Phuket that help these animals. Soi Dog Foundation is a non-profit organisation helping to improve the lives of dogs and cats, in Phuket and Asia.
PAWS are a fully licensed and registered charity foundation. They help reduce the stray population and educate the local people on how to take care of their pets responsibly.
With the donations and support of animal lovers worldwide and help from the local Thai authorities, these organizations have managed to decrease the number of strays in Phuket. They have sterilization programs in place as well as offering medical treatment, vaccination and sheltering and great results in finding new homes for them.
After been visiting one of those shelter you deserve a to join on of Phuket boat tour for a Phuket sunset cruise, or discover snorkelling, enjoy a swim or simply lay back and relax on the sundeck.