The last thing anyone wants when on holiday is to get ill. However, this can easily happen in Asian countries as the food is different, the weather hot and the water unsafe to drink.
Here are a few pointers to make sure you stay healthy and can enjoy your stay in Phuket.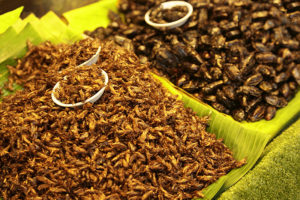 Thai Food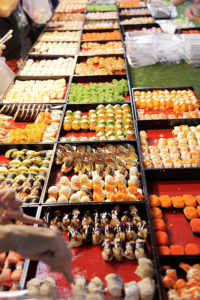 There's so much delicious food here, particularly local food at places like Phuket night market. The Thai food can be very healthy with a diet mainly of rice, vegetables, seafood and lots of herbs and spices. As a rule, Thai people don't generally eat too much red meat and are more likely to eat small portions throughout the day.
However, most of us when on holiday don't always eat as well as we might when at home. You should be aware that the food here can also be spicy, and a lot of it is fried and loaded with MSG, or sweetened with cane sugar or palm sugar.
The most common problem visitors to Thailand suffer is a stomach upset and diarrhea. It can be painful and exhausting, and if severe could even ruin your holiday.
Look for food that is fresh and made on order, and try to avoid anything that looks as if it has been reheated. If buying fruits and vegetables from the market make sure you wash them thoroughly or peel them. Always take extra care with seafood and shellfish.
There are plenty of healthy options in Phuket. Thai restaurants are becoming more aware of foreigners who like to eat fresh, healthy food and are adapting their menus to suit.
Fruit and vegetables are low-priced and easy to find in the local shops and at the local markets, just make sure you wash them thoroughly with clean water. You can find coconuts everywhere and they are packed with vitamins and minerals. Salad bars are opening in most towns and healthy wholesome food is getting easier to find.
Avoid Sunburn
Another common issue holidaymakers experience is sunburn and dehydration, as they generally spend a lot of time on the beach. Most people from cold climates aren't aware of the risks too much sun can have on the body, but sunstroke is not to be taken lightly.
Don't Drink Tap Water
It's important to drink plenty of water. Thailand is a very hot country and it's necessary to drink more water here than you would at home. Dehydration is common, you might suffer headaches or feel lethargic, have a dry mouth, or feel weak and thirsty all the time – so gulp back as much as you can.
We don't drink the tap water in Thailand, not even the Thai people. Bottled water is sold everywhere and very cheap. Most hotels will supply you with a few free bottles in your room, and a bottle from the shop can cost as little as 7 baht. Restaurants give you free drinking water with your meal, so it's easy to stay rehydrated.
Drinking too much alcohol will leave you dehydrated. If you do have a few drinks then it's a good idea to match each glass with a glass of water.
Protect Against Mosquitoes
Mosquitos love white skin! Our tropical weather means that we have a lot of insects, including mosquitoes. They have a nasty bite and can carry infectious diseases such as Dengue. Protect yourself by using a spray as evening falls, and wear loose fitted clothing to cover your body, even when on a Phuket boat tour.
Travel Insurance
Everyone should have travel insurance if going abroad, if you don't then you could be faced with a very large medical bill if an accident should happen. A stay in one of Phuket's hospitals can be very expensive. Be sure to read the insurance policy and understand exactly what it covers you for.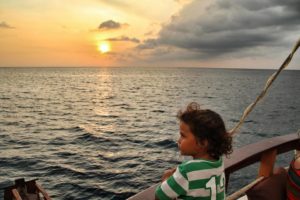 Join MV Phuket Champagne on a relax boat tour from Khao Lak and spend the day slowly sailing through the calm waters of Phang Nga Bay. The limestone islands rise vertically out of the sea and the rock formations are ancient.