Songkran Water Festival is a major event in Thailand, and Phuket one of the best places to enjoy it. It's exciting, fun, crazy and must be experienced if you are in the country. You are guaranteed to get wet, laugh until your jaws ache and join in something that is totally Thai.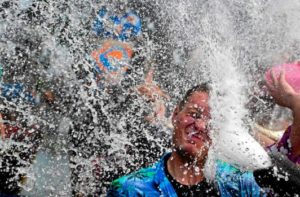 Songkran is officially the Thai New Year and nearly everywhere shuts down for the day. Banks, schools and offices are all closed at least for one day, the only places that stay open are some restaurants and bars to supply the partyers with refreshments.
Phuket Weather
Songkran is held in April as it is the hottest time of year in Thailand. The festival is all about celebrating the end of the dry season and the beginning of the new solar year. Basically, it involves getting drenched. You'll start to see colourful plastic water guns of all sizes on sale a few days before and everyone will be asking, 'What are you doing for Songkran?'
Thai people love this time of year as they get a day off, and tourists join in enthusiastically too, so it's lots of fun for everyone. People either walk the streets with their guns squirting water at everyone they see, or climb on the back of a pick up and cruise around the busier parts of the island looking for victims.
The trucks are equipped with huge barrels filled with water from hosepipes made available for everyone along the route. Some even put ice in the barrel which can be quite a shock to whomever gets it thrown over them. The other option is to join the crowd at a bar or other communal place at the side of the road. There will be music to enhance the atmosphere, and even dancing after a few drinks!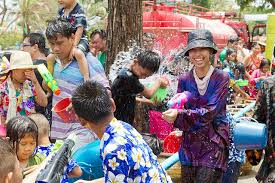 Where to Celebrate?
There is no way you can avoid getting wet unless you stay indoors. Patong is the craziest place to be and the cars are bumper to bumper as they inch their way slowly around the streets. Thousands are out and about as the bars blast out music and everyone joins in the dancing. Rawai and Kata are just as much fun but not quite as rowdy.
If you decide to enter the madness of Songkran, we would advise you to either leave your phone at home or wrap it up tightly in a plastic bag before venturing out. There is no way you can stay dry on this day, so be prepared!
The festival lasts a day in Phuket but elsewhere in the country it can go on for a week or more. The atmosphere is friendly and it's a great day where the local people, the expat community and the tourists mix and have a lot of fun.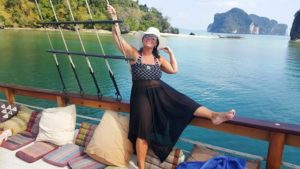 We are a friendly team at La Moet, we love to be out and about on Phuket island tours and meet new people. Take a trip on our beautiful boat and get to know us better, we can guarantee a great time for everyone.