Tourists often visit us here in Phuket and ask, 'Where can we catch a bus to get to town, Patong or Kata?' Unfortunately, transport is a big issue on the island. There simply isn't the efficient public bus system available for visiting Phuket attractions that you'd expect from a popular holiday destination.
The only public transport service in Phuket are songthaews, these are blue pick-ups that operate specific routes. They are very cheap and cheerful, but not particularly comfortable, as most are open-air and the seats wooden benches. Also, they only operate from town to and from the main tourist beaches, so services are very limited.
Apart from that you are left with taxi's and tuk-tuks, which are very expensive. Motorbike taxis are also available if you are an independent traveller, and don't mind riding pillion.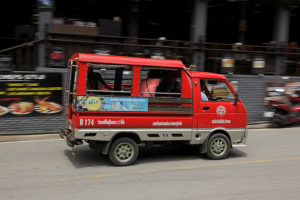 Advantages of Renting a Motorbike
For these reasons, many travellers decide to rent a scooter to explore other parts of the island. Renting has its advantages. You have a lot more freedom, stopping off when and where you like and taking as much time as you wish to visit attractions.
Then there is the cost. Renting a motorbike is very cheap compared to renting a car or getting a taxi. Bikes are generally 150-250 baht a day. Gas is very cheap too, 100 baht should fill the tank of an automatic scooter.
You need to be in possession of a motorbike license, although most places are very unlikely to ask to see it. Be warned however, that if the police do stop you and you have no license they will fine you.
Disadvantages
We wouldn't be honest with you if we didn't point out that Phuket can be a challenging place to ride a motorbike. There are a lot of accidents on the roads here, many involving foreign tourists.
The reasons for this are several. Tourists either arrive here with no previous experience, or drive recklessly because they are on holiday. Some even drive when drunk, wear skimpy beach clothing and don't wear a safety helmet.
Most Thai people have grown-up riding a scooter but they also have a unique way of riding that you will have to get used to. They can take no notice of the speed limit, pass on the left, don't use indication and talk on their phones whilst driving. Some on-coming traffic will even drive on your side of the road as they overtake, expecting you to move, even though they are in the wrong!
The main roads can be very busy with minivans and big tourist buses speeding along. The larger vehicles will try to push you out of the way, blasting their horns with no intention of slowing down.
We're not trying to be scaremongers here, we just want you to realise the dangers involved. There are lanes intended for scooters so try to stay within those for safety. Keep your speed to a minimum and keep an eye on traffic. If you intend to turn left always check behind you, as motorbikes will overtake on your left even if you are indicating to turn.
Make sure you have full insurance and always wear a helmet. Saying all that, riding a bike can be a lot of fun and a great way to experience Phuket.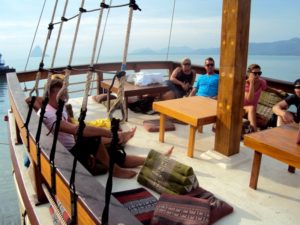 If you instead decide to be on the safe side to be pick up with and air-conditioned van to go on a join in Phuket boat tour with MV Champagne, you will see the most remarkable places and beauty spots for snorkelling and swimming around Phuket. You're certain of a great day out and memories to last a lifetime.