In Phuket, we only really have 2 seasons. They're called by a variety of names – the dry season and the wet season, the hot season and the rainy season or monsoon season, and the high season and low season.
High season in Phuket generally starts in November and runs through to May. It can be a crazy busy time as we start work when the sun rises and work through until late in the evening. Tourists flock to the island, and our boat, MV Champagne, is out every day taking sightseers to the most beautiful places as Phi Phi Islands and Phang Nga Bay.
We can be busy from early morning to late evening as thousands of tourists arrive on the island daily. The time goes so quickly, it always seems that high season is over in a flash. Suddenly low season is with us again.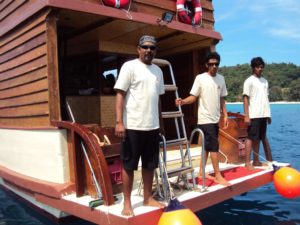 Seasons
After May things start to slow down and low season really kicks in. There aren't as many visitors during these months because of the monsoon rains. The rain is unpredictable in Phuket, we can't say for sure that it will rain every day during July, for example. Every year the amount of rainfall differs.
Rainy Season
Some years the rain can be constant and the skies grey for days on end. Others it can be especially dry with weeks and weeks of sunshine scattered with a few heavy showers. Sometimes there is so little rain that the reservoirs can't cope with high demand during the busy season.
Monsoon here isn't that bad. You could wake up to a big storm with high winds and heavy rainfall, then by the afternoon the skies are blue again and the rain has disappeared. May and September are usually the wettest months, but not always. The sea can be rough during the low season and not always suitable for swimming and sailing.
This is the time to take stock. There's a lot of maintenance to do on a wooden boat as big as MV Champagne.
Once the busy season is over we send her to the shipyard where she gets her beauty treatments. She gets her botox and fillers, and has a mini-facelift to get her looking beautiful in time for the busy months. We want her looking her absolute best for all the tourists.
The deck is scrubbed down, new paint applied, the wood sanded in preparation to be varnished, and faded furnishings are replaced, ready for more Phuket boat trips.
The kitchen gets a face-lift too and old appliances are thrown away and replaced. We look at our menu and come up with some new recipes that we are sure guests will enjoy.
Our carpenters have over 100 years of experience, and we call in the painters, mechanic's and welders to get Champagne looking ship-shape. Even the engine room gets a tweak and oil to keep her running smoothly and to provide relaxed boat tours in Phuket.
Don't think while they are working hard that we are sitting back relaxing! At La Moet, we see our team as family, and family are great for helping out! We take up a paintbrush, get on our hands and knees to scrub and varnish and run out for supplies and snacks.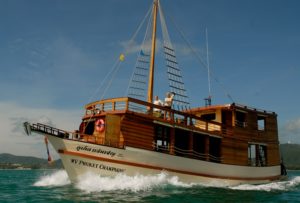 Visit Phang Nga Bay by boat with La Moet and view its dramatic scenery, unique cave systems and tropical lagoons.