It's very common to see elephants in Thailand. Even though we have lived here for more than 20 years we still get a flutter of excitement when we see these gorgeous giants walking down the road.
Elephants are one of the main Phuket attractions that tourists want to see when they visit our island. You won't be disappointed – you'll see lots of them at the trekking camps based at the side of the road, sometimes you can spot them grazing in the fields. We've see them being walked on the beach sometimes, and even walking along the main road on their way to somewhere.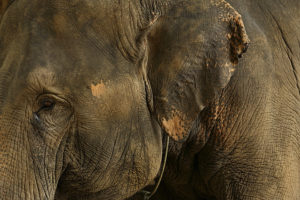 Working Elephants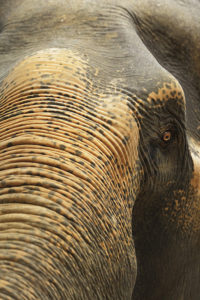 Elephants were originally used in the logging industry in Thailand, but this all changed when logging was banned in 1989 by the government. This meant they weren't needed for work anymore, and the owners had to look for an alternative way to make a living.
At that time tourism was on the increase and so elephants were put to work giving rides to tourists. Phuket has more than its fair share of trekking businesses, tourists sit in wooden chairs attached to the animals back as they amble along mountain trails.
These elephants have spent years working, from moving heavy wood logs for the logging industry to having people climb all over them and sitting on their backs. They are trained to do silly tricks for our entertainment. Most of their lives has been spent working and many of them are tired and depressed or even abused.
This is the sad side to elephant trekking. We would like travellers to Phuket to at least be aware of it, so you can make your own minds up about what you do on your trip.
Elephant Sanctuary
In 2016 a sanctuary opened with the aim of providing a tranquil and safe place for elephants to live. Located in the forest on the edge of the Khao Phra Thaeo National Park, it offers a natural setting to those animals that are either too old to work anymore, have been injured or are sick.
You have the chance to meet them, feed them and walk with them, this is a truly unique experience made even better by the fact that they are free. See them playing, taking a bath in the freshwater lagoons, and living a happy and stress-free life. Experience some Phuket hiking whilst you are in the area.
​Be aware that there are no rides here, the sanctuary respects the elephants personal space so they can display their natural behaviours. It also works hard at educating the elephant riding camp owners to make changes that will benefit these animals.
If you would like to visit or donate towards the welfare of the elephants, then check out their website or facebook page for information. Or if you have time then why not visit? We promise it will provide some very special memories.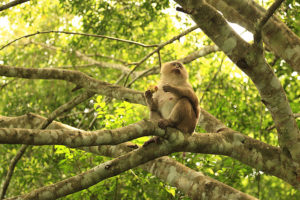 At La Moet we believe in ethical tourism and think this is a great place to visit if you are in Phuket. They welcome everyone and you get the opportunity to see these beautiful creatures up close in their natural environment.