Phuket is the main holiday destination in Thailand. There are plenty of people who come here to get a tan, get drunk, or pick up a bar girl. However, there is a whole lot more to the island than that, its culture and traditions are fun to explore and the food is so tasty you'll return again and again just to eat.
The type of holidaymakers we see arrive on the island these days seem far more interested in getting fit and healthy. Students of Muay Thai and Mixed Martial Arts flock here not only for Phuket attractions, but also as it's an ideal destination to train. The gorgeous mountains and spectacular coastline are perfect for running, cycling, walking and swimming. Add to this magical mix friendly people and mouth-watering food, and it becomes obvious why it's become a fitness destination.
There are a lot of Muay Thai camps in Thailand, particularly Phuket, and more opening all the time to keep up with the numbers of fitness fanatics arriving daily. First-class facilities offering regular fitness classes and English-speaking personal trainers attract trainees from all over the world.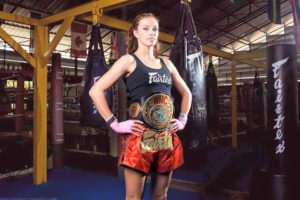 Tiger Muay Thai
This is a large and well-established training camp for Thai boxing and Mixed Martial Arts, including Brazilian Jui-Jitsu. The standard is high with highly-experienced instructors and coaches. The camp is very impressive with anything from 250 to 400 trainees arriving every month. They also host professional fighters who are preparing for their next fight.
AKA
AKA offers classes and training in traditional Muay Thai, Brazilian Jiu-Jitsu, MMA and Strength & Conditioning. Their boxing facilities include a 6,000 sq. ft. open air training building and 2 huge boxing rings. The BJJ and MMA programs are held in the air-conditioned main training building and there's a fully equipped, weight and cardio room.
PhuketFit
PhuketFit is a gym with a yoga studio, fitness studio, boxing gym, TRX area, assault course, fitness area and health food restaurant. They offer 3 specialist programs that include Detox & Cleanse, Weight Loss, and Complete Fitness.
Top Team
Phuket Top Team Training Camp offers training programs in Submission Wrestling, Gi Brazilian Jiu Jitsu, Freestyle Wrestling, Western Boxing, Muay Thai K-1 striking and MMA classes. They have a large area outdoors for Muay Thai and an impressive line-up of champions amongst their trainers. The indoor area covers 300sqm and there's even a full sized professional MMA cage.
If you prefer something a little more low-key, then there are much smaller boxing camps too, mainly providing Muay Thai training. At the southern end of the island there's Lion Muay Thai, Sinbi, Kingka Supa and Suwit Gym.
Tai Chi and Qi Gong
Tai Chi and Qigong classes on the island are harder to find. There are classes run by Sifu Curtis Brough, an inner-door disciple of Sifu Adam Mizner for more than a decade. He teaches mainly Yang Style Family Qigong with various sets aimed at health and longevity and is based in Nai Harn.
Private sessions can also be arranged at CC's Hideaway and Santosa Detox & Wellness Center, both located in Kata.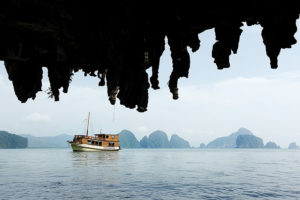 Our comfortable boat, MV Phuket Champagne, can be used for a private charter or join one of our daily tours. We also offer trips on one of our 'sister boats', with an option of a catamaran, sailing boat or a motor yacht.