For couples that want to spend their honeymoon on the beach but also have a sense of adventure, then why not try island hopping in Thailand? Phuket is a great place to base yourself, and there are some stunning nearby islands perfect for 1 or 2 day trips.
Phuket has everything you need for a memorable honeymoon, there are gorgeous beaches and mountains, first-class resorts and golf courses, shopping centres and delicious cuisine. Combine your stay with a few Phuket boat tours out into the beautiful Andaman sea and turn it into something extra special.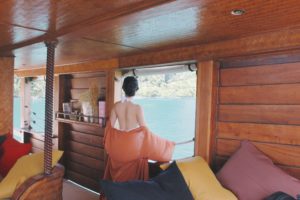 What's best about visiting different islands is that you can choose to stay in luxurious resorts and first-class hotels, or a simple beach bungalow. It all depends on your budget and what is offered in way of accommodation of course.
Koh Yao Islands
Two of our favourite day boat tours are to Koh Yao Noi and Koh Yao Yai. They are easy to get to and can be explored in one day, or indulge yourself and book an overnight stay and really get the feel of the island life here.
Set right in the centre of Phang Nga Bay, the Koh Yao islands are midway between Phuket and Krabi. The surrounding scenery is of the prominent limestone karst islands famous all over the world for their unique look. The journey takes just under an hour from Phuket. Koh Yao Noi has the most going on with a few small resorts, restaurants and romantic retreats.
Koh Racha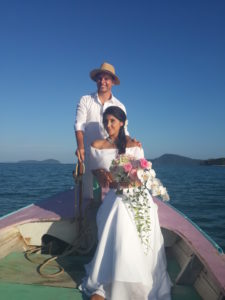 Koh Racha is a very small island with crystal clear waters and great snorkelling reefs. The fine white beaches and deep blue seas are so pretty they must be seen to be believed. Heading south from Phuket they are about a 40-minute speedboat journey from the pier. Racha is also one of the best locations for both Phuket fishing and snorkelling tours.
The reefs are swarming with tropical fish including octopus, Barracuda, and jumping sailfish. There are some Thai restaurants on the beach where aroi-maak seafood dishes are served.
Coral Island
Only 3km from Phuket is Coral Island, a beautiful getaway destination. The snorkelling is fantastic from the moment you set foot in the water, and the nearby reefs reveal gorgeous tropical fish from sergeant majors to colourful parrot fish.
Koh Phi Phi
The Koh Phi Phi islands are just as famous as Phuket and an ideal Asian hideaway for honeymooners with remarkable scenery, great snorkelling and striking beaches. There are cheap and cheerful places to stay on Phi Phi Don and the island is small enough to walk around. The beaches are covered in fine, white sand and the water is warm and clear. Visit Maya Bay, Bamboo Island, the Viking Cave and Monkey Beach.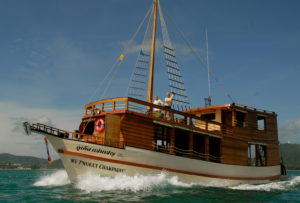 MV Phuket Champagne organises boat tours to the Phi Phi Islands and around the nearby islands of Phuket. Spend the day on our 20m cosy boat and feel free to lounge around and relax.