Many years ago it would be a surprise to see people hiking and walking around Phuket. Local Thai people would stop and ask if you needed a lift, then you would have to explain that you were walking for exercise. They would drive off shaking their heads at 'foreign ways'.
These days everyone seems to be fascinated with keeping fit, from running and cycling to training in Muay Thai and yoga. Exercise is very popular now with everyone, and Phuket hiking just one of the ways people can keep healthy and see parts of the island that are usually hidden from view.
Parks & Dams
There are several parks and dams in Phuket where people like to walk, Suan Luang Park, Nai Harn Lake, and Bang Wad Reservoir are well-known and easily accessible. The Phuket Big Buddha road and Radar Hill are steep and long and attract hikers, runners and cyclists looking for a challenge.
The problem with hiking in Phuket is the heat, it gets very hot during the day and can be uncomfortable to walk. Then there's heatstroke and sunburn to worry about too! That's why you'll see most hikers out and about in the early hours of the morning.
Hiking in the Hills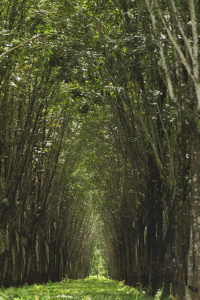 We love to hike and generally aim to start walking at 6am at the latest. Then we're back home by 9am, avoiding the hottest part of the day. We like nothing better than heading out into the cool mountain air and exploring the trails hidden in the hills of Phuket. There are quite a lot but most people don't know about them, or where to find them, as there aren't really any maps or set trails for people to follow.
Peaceful Trails
Once you head upwards and leave the busy streets of Phuket behind you can appreciate the peace and quiet. You might see the odd motorbike or car but generally no-one is around at 5 or 6am. If the trails pass through rubber plantations you might see the workers tapping away at the trees or some friendly dogs might come out to have a sniff and say hello.
It's a great feeling to look down onto the houses and beaches far below and try to recognise it. From the Big Buddha you have 360 degree views all over the south of the island, including Phuket Town, Kata Beach, Karon, and Chalong Bay.
There are lots of places to hike around Phuket, you don't have to walk too far to find them. If you want to walk but prefer to start with something easy, then we suggest you take a turn or two around Nai Harn lake in the south of the island. This is a very popular place for anyone training or even just out for a stroll with the best times early morning and evening.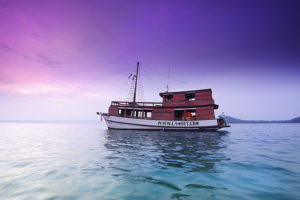 The unique boat MV Phuket Champagne offers an alternative view of Phuket. From the sea look back at our beautiful island and see just how high some of those mountains are. Maybe one day you'll find yourself walking to the top of one of them!