Thailand is the land of sanuk, this means it is a lot of fun. Thai people like to smile and they love to laugh. They adore slapstick and you will rarely see them angry as they believe by losing your temper, you lose face.
Thailand is acknowledged as one of the most open-minded countries in Asia regarding homosexuality. Thais are private people, and similarly don't generally interfere or judge how others live. As the Thais are fond of saying, "It's up to you."
Phuket is the largest island, and one of the most popular with tourists. Holidaymakers arrive here from all over the world to check out its beautiful beaches, dramatic bays, national parks, busy markets and fabulous coastline.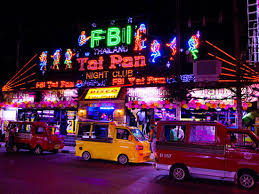 Patong
Phuket nightlife is lively and the place to party is Patong. There's lots of gay accommodation available within walking distance of the beach, and many bars popular with members of the gay community. We would say that every bar and club here is gay-friendly.
Walk down the most visited street in Patong, Bangla Road. You're sure to be waylaid by flamboyant ladyboys, eager to tempt tourists into the bars and clubs or to watch a cabaret show. Although this might not be your kind of thing it just demonstrates how easy-going Thai people are.
Although it can be very sabai sabai here, you should always remember that this is not your country and it's impossible to understand any culture in just a few weeks. We have been here for nearly 20 years and still have misunderstandings at times.
What you might know as acceptable in the west doesn't necessarily mean that it is in Asia. For example, whilst in Europe we might not look twice at a couple having a snog, here in Thailand public displays of affection are frowned upon. Just be aware that the Thai culture is very old compared to most western societies, and this makes it unique in the way it deals with things.
Phuket Pride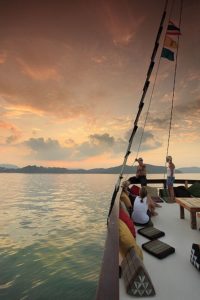 Pride is an annual event organised by The Phuket Loves You Club. Their objective is to support the LGBT community and plan events, like an Private charter, to bring the community together. The money raised helps support various programs, such as HIV Prevention, Education and Treatment.
TropOut Festival
TropOut is 'a festival for the modern gay traveller' – the next event is scheduled for 2018. They organise parties at several venues, next year they have plans for Café del Mar, Dream Beach, and Level 1, amongst others. Expect a blend of relaxed afternoon pool parties and wild, late nights.
If you do visit, then it would be a shame to miss out on a Phuket cruise to one of the nearby islands. Join us at La Moet to visit the Phi Phi Islands or Phang Nga Bay, where the clear waters and white sandy beaches are the purest you've ever seen.