Thailand is a hot country, one of the main reasons tourists choose to holiday here. Phuket is the most popular island in the country, mainly for its brilliant sunshine and gorgeous beaches.
Even when it's raining the Phuket weather is still hot. Our monsoon season generally starts around May and goes right through to October. Although it doesn't rain every single day it can be wet and damp, but it's never very cold here.
If you do visit during these months it might not be possible to swim or sunbathe because of the weather. We've made a list of things to do, all suitable for a rainy day.
Used Bookshops
Luckily, Phuket is well developed, which means there are lots of activities. If it's raining too hard then we often head to one of the used bookstores on the island. On Phang Nga Road in town is South Wind Books, and just down the road is an even larger store. You can find anything here from Tom Clancy and Stephen King to the classics. Pick up a book or two then head to Thalang Road and settle yourself into one of the funky coffee shops for a quiet read.
Talking about funky coffee shops, at the southern end of the island in Rawai is The Book Cafe. A great little find with used books for sale, delicious fresh food and healthy smoothies, and lots of space to hang out for hours.
Shop 'till you Drop
Shopping is another option when it's raining. Jungceylon in Patong and Central Festival near Phuket Town are air-conditioned shopping centres. As well as hundreds of shops to explore, they both have a cinema complex, countless places to eat, and great ice-cream! You can get a massage, have a manicure or beauty treatment, or just wander around window shopping.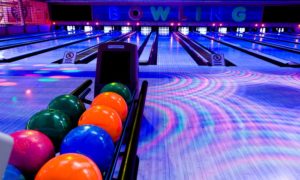 Go Bowling!
Thai people love bowling and there are quite a few ten-pin bowling alleys in Phuket. The main ones are located at Big C shopping centre and in Jungceylon. The venues are large, the music's loud and tasty nibbles available.
In town, there are some bars and restaurants where you can book a small room and sing karaoke! It's heaps of fun – even if you feel shy at first you soon lose all your inhibitions when a favourite tune comes on.
If you have kids to entertain then check out Phuket Trickeye Museum, a popular attraction with families as it's very interactive. The photo opportunities are hilarious with creative 3D paintings and it can be a real laugh on a wet day.
A new attraction is The Upside Down House, perfect for families or groups of friends. There's a 1000sqm maze to lose yourselves in, and a room where you're trapped until you answer some trivial questions correctly and can escape.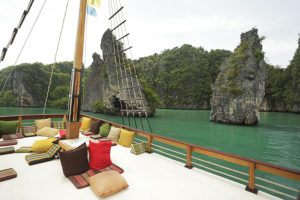 A Phang Nga Bay day tour aboard MV Phuket Champagne can be good fun even when it's raining as you're going to get wet anyway! This is a very beautiful area with hidden caves to explore.