Holidays are for spoiling yourself. After months of hard work and saving madly it's time to chill out on a beautiful tropical island, and indulge your body and mind with some luxurious pampering. Lots of people travel here to get married or for a Phuket honeymoon and want to feel and look their best whilst on holiday.
The first thing you should do on arrival in Phuket is get a Thai massage. There are hundreds of places that offer massage of all kinds, and it is very affordable here. Thai massage dates back 2000 years and benefits include increased blood circulation, lower blood pressure, detoxification of the body, improved posture and balance, reduced stress and more energy.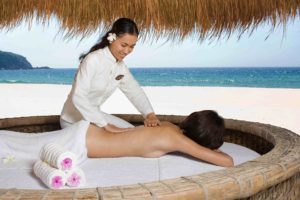 Phuket Beauty Salons
After your relaxing massage head to one of the hundreds of beauty salons in Phuket – actually that's an understatement – there are thousands. Thai women are renowned for their long, shiny hair and smooth clear skin, partly due to spending so much time at the beauty salon. In Thailand, the salon is almost as important to Thai women as food.
There are beauty salons everywhere you look, on every street corner you'll find someone who can wash and cut your hair or give you a manicure.
Some are very basic and simple, whilst others have made more of an effort and are stylish and chic. With a wide range of services on offer, whether you want a wash and blow-dry or some fancy nail art, it's easy enough to find.
Every beauty salon has its own list of services. Some can fix your hair and do your nails, and that's about it. Others offer practically everything you'd expect from a resort spa, with top quality products, including Toni & Guy, L'oreal, Shellac, Vinylux and OPI.
Nails, hair, facials, eyelash extensions, eyebrows shaped, waxing and spa services, nearly every part of the body can be enhanced and indulged here in Phuket. Prices are a lot more affordable than Western prices too, so now really is the time to look your best.
Manicure & Pedicure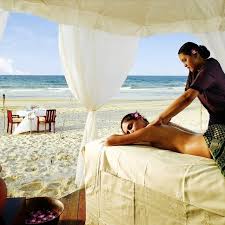 Treat yourself to a manicure and pedicure. Sit back in a cosy chair and listen to the relaxing music – it's all part of the service. At most places, it includes a complimentary hand and foot massage.
Wedding nails are quite a speciality here too. If you're getting married on this tropical island then why not indulge and have a truly unique design on your nails? We've seen some beautiful wedding manicures using lace, pearls and rhinestones for decoration.
Specially formulated acrylics and polish are used to create 3D designs on your nails or pre-made 3D designs of flowers and diamonds attached. You can even find kid-friendly nail art here, why not spoil your daughter too?
Head to Toe Package
A few hours at the salon and you can be pampered head to toe. Packages include anything from foot reflexology and Thai herbal steam massage, to a facial treatment or coffee body scrub.
Make yourself beautiful with eyelash extensions, be brave and have your eyebrows or lips tattooed. Get your eyebrows waxed or jump right in and have a full body wax. That's what we love about Thailand. The choices are endless and the prices reasonable.
At La Moet Phuket we offer trips to Khao Lak and Phuket island tours, join us for a relaxing day surrounded by tropical scenery.