There are all kinds of reasons why you should visit Phuket, so we have highlighted 5 of the best to make it easy for you.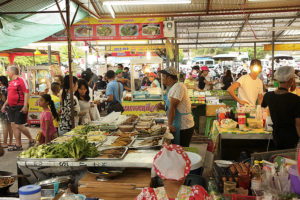 Delicious Thai Food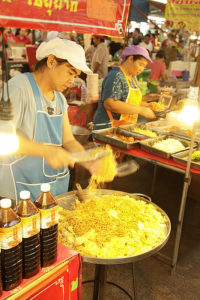 Thai dishes are well-known for their unique flavours that work in harmony to give the right balance. Some of the favourites are Tom Yum Goong, a spicy shrimp soup, and Pad Thai, a noodle dish. Also on most Thai menus are Pad Krapow Moo Saap which is fried basil with pork, and Gaeng Keow Wan Kai, a delicious and slightly spicy green chicken curry.
The tastiest of Thailand's mouth-watering food is not only found in first-class restaurants but also created at simple roadside stalls, and Phuket is no exception. Delicious dishes are rustled up in no time by street vendors using the freshest of ingredients, so don't be afraid to sample something new.
Stunning Beaches
Phuket has the most beautiful beaches in the country, which is why it has become so popular. Kata Beach is great for families as the swimming is safe and there are beach chairs, shade and refreshments available. Nai Harn is at the very southern tip of the island and very popular with holiday-makers.
Patong is much more crowded but can be fun if you want to take a trip on a jet-ski or a banana boat ride. Head further north towards the airport and you'll find the long sandy stretches of Nai Yang Beach and Surin, where there's more likely to be a quiet spot away from the crowds.
Spectacular Views
Phuket covers a mountainous area and there are some great view points to gaze at the sunsets from, sunrise too if you are an early bird. Some involve a bit of a climb whilst others can be reached easily by car. Remember to take drinking water with you as it can get very hot and there might be no services at the top.
You'll find restaurants, gift shops and refreshments at the top of the Phuket Big Buddha which is immensely popular for its panoramic views. At Karon Viewpoint you can see over the 3 bays of Kata Noi, Kata Yai and Karon. Radar Hill Viewpoint is very peaceful as there aren't as many people aware of it, and it's the highest point in Phuket.
Massage & Spa Treatments
You don't have to go far to find a place that offers massage and spa treatments in Phuket. If you can afford it then treat yourself to a 5 star all day session at a luxury resort. Otherwise there are plenty of simple style Thai massage parlours, you probably have one next door to your accommodation!
Most massage parlours offer traditional Thai massage, oil massage, facials, reflexology and sometimes sports massage. The possibilities of spoiling yourself here are endless.
Phuket Boat Tours
There really is no better way to explore the island and its surroundings than by taking a boat trip. Discovering deserted islands and white sandy beaches, limestone cliffs and hidden caves from the calm waters of the Andaman is sure to be the highlight of your holiday.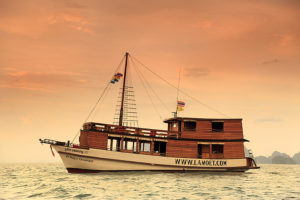 At La Moet our passion is sailing. Our boat is a traditional fishing boat that we purchased and lovingly renovated to create the unique comfortable, stylish cruise boat it is today. We would love you to come and see it for yourself